Hiking Shoes or Boots: What you need to know before you buy
Living in the woods created opportunities for hiking all my life.
Living close to some of the most beautiful state parks also provided chances to get out and hike the trails during my summers and weekends off in the fall.
From a young age, I learned that having the right equipment can make a big difference in the hike.
Hiking is all about being on your feet. Climbing up trails, over rocks and spending all day walking miles at a time can really take a toll on your body, especially your feet.
This is why it's so important to pick the right hiking shoe or boot when going out, especially for more serious hikes.
For a long time, I hiked in tennis shoes. I always pulled my grey and green pair out of my closet as I got ready to head out on one of my hikes.
It was when I slipped and fell that I realized I couldn't use my tennis shoes. The tread was made for running on flat surfaces, not climbing over slippery rocks.
I was lucky that my fall wasn't too bad. I was seconds away from hitting my head, but I rolled before I did.
On some of the trails I hike often, there are steep steps of smooth rocks, and one slip could seriously injure someone.
This was when I learned that having the right shoe could make the difference between going home safely or having to be rescued at the top of the bluffs I hike.
Some people believe that tennis shoes are their only option. Well that's hardly true. Beside tennis shoes, which are great for hiking on flat, dry surfaces, there are also hiking boots and shoes.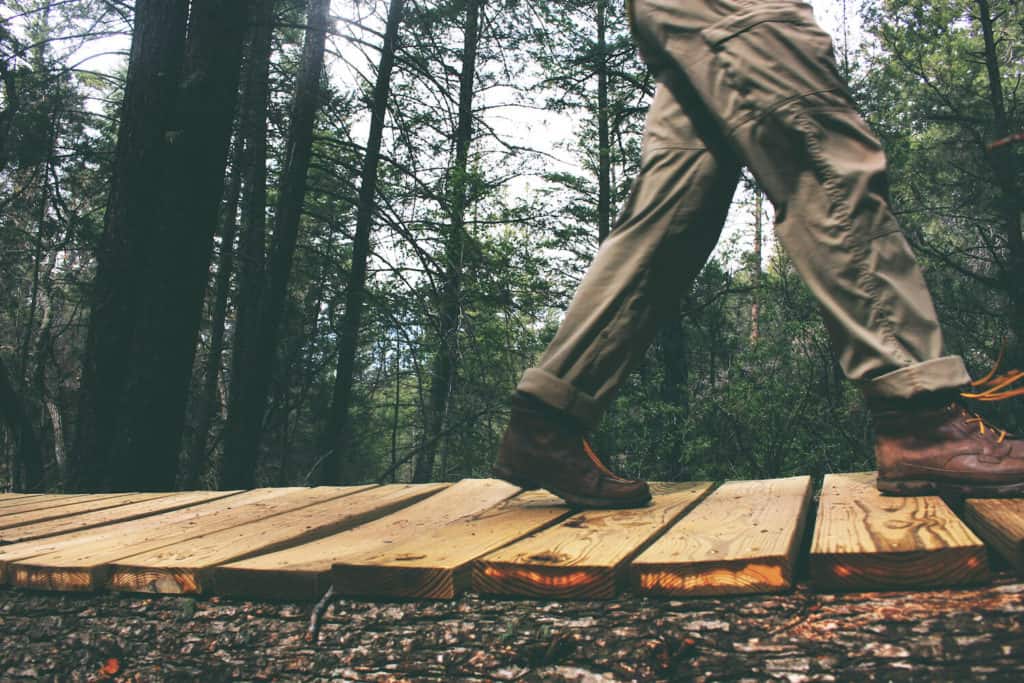 While hiking boots may not be the right pick for a simple hike around the park, they are great for more serious hikes and backpacking trips. Hiking shoes could also be great for back packing trips, but it's important to make sure you're getting the right shoe for the right reasons.
One of the biggest mistakes people make when getting hiking shoes or boots is just buying the first pair they see without asking any questions or considering what may be important for them specifically.
For example, think about an occasional hiker and someone who hikes occasionally. The person who hikes often may want to think about investing in a nicer pair of shoes, while the other who only hikes here and there may want to just stick with tennis shoes.
When you're ready to pick out your pair of hiking shoes or boots, there are a few things to think and maybe ask questions about. One of the most important aspects of picking out a hiking shoe or boot is making sure they fit.
Because you'll be spending a lot of time on your feet and putting a lot of pressure on your feet, it's so important to make sure the shoe feels good. It doesn't matter if it's a boot or a shoe, it should feel good, yet secure on your feet.
Another important part of picking out a shoe is the tread. For me, if the tread on my shoe would've been better, I never would have slipped. I did twist my ankle from that fall, but I was lucky it wasn't worse.
For hiking that trail, I now know I need a shoe with a better tread. For trails with rocks and water, it would be important to look at the tread on the shoes.
Even if there isn't water on the rocks, the rock faces can still be slippery from years of erosion. Paved hiking paths don't require a shoe or a boot with great tread.
I also find the support the shoe offers to be a big deal breaker. Like the comfort of the shoe, the support it gives you can be a deal breaker.
For those interested in a backpacking expedition, having ankle supports can make a big, yet important difference on your trip.
When looking at the hiking shoes these are usually high-ankle hiking boots that lend the support to the hiker's ankles.
For people who maybe aren't carrying a lot of baggage with as they hike, a shoe called a trail runner may be the best bet. They're light-weight and can actually offer all the support that's needed.
This is the type of shoe I prefer for my type of hiking. While occasionally I hike paved trails, on most of my hikes I am climbing up rocks and rougher trails.
Depending on where you're hiking, it may be of some interest to consider getting water proof hiking shoes. In one place where I hike, to get to the waterfall, you have to hike through three inches of water.
Waterproof shoes are really important for when I'm doing this hike. Either my tennis shoes in the past would be soaked for the rest of the day after hiking or I wouldn't make it to the waterfall that day.
A common mistake that can be made when trying on hiking shoes and boots is not bringing the necessary items with you.
Hiking socks may be thicker than regular socks, so it's important to bring a pair with you when trying on a pair of shoes.
People who have shoe insoles and orthopedic inserts should also bring them to make sure that they fit into their new shoes.
Finding the right hiking shoes isn't hard, but it's an important part of hiking.
When going in to find your hiking shoes or boots, it's good to remember to ask questions, keep in mind what you want out of your shoes and bring everything you'll need to make sure your shoe fits.
Hiking is something that brings us out into nature and away from the hustle and bustle of our daily lives.
Don't let buying the wrong pair of shoes to be the reason you're not fulling enjoying and loving nature for everything it has.
Sources:
http://www.livestrong.com/article/455221-how-does-it-benefit-me-to-wear-hiking-boots-instead-of-tennis-shoes-on-the-trail/
https://www.rei.com/learn/expert-advice/hiking-boots.html